Speaking Topics
Education, Entertainment and Chocolate — Get Outside the (Chocolate) Box!
Julie's inspires audiences as she weaves the health benefits of chocolate, nutrition, entertainment and laughter into all of her speaking engagements. Past audiences include keynotes and breakout sessions for corporations, private events, charity events, luncheons, women's groups, men's groups and more. She has also traveled internationally as a guest lecturer on cruise ships, educating people around the world about the extraordinary health benefits of chocolate.
Julie has been featured in newspapers and magazines, appeared numerous times on local TV, has hosted charity and fund-raising events and has been featured on the cover of a magazine. She's owns The Chocolate Therapist, an all-natural chocolate shop where they handcraft chocolates using pure ingredients including nuts, berries, spices and organic flavoring oils. Julie also specializes and teaches classes on Chocolate & Wine Pairing.
Sample Speaking Topics
The Extraordinary Health Benefits of Chocolate
International Chocolate & Wine Pairing
How to Pair Chocolate & Tea
International Chocolate Tasting
Times can be suited to any time slot and vary depending on topic.
For information on how to book Julie for your next event, fill out the contact form or call 303-795-7913.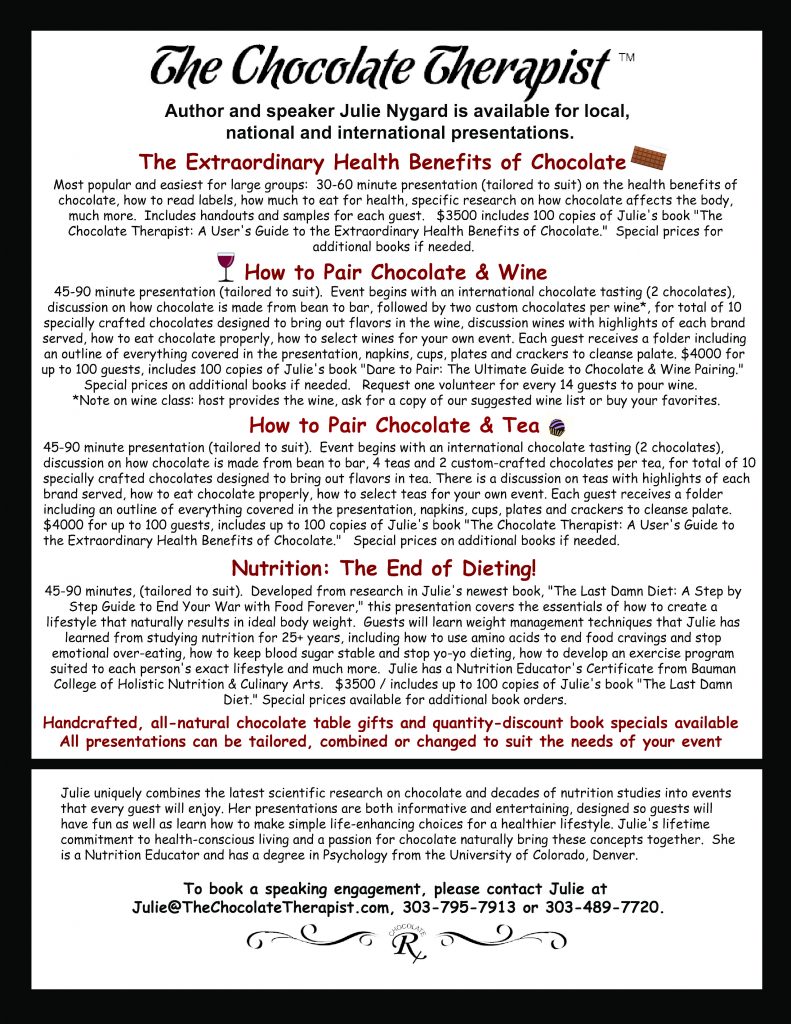 Unique, entertaining….perfect for corporate keynotes or breakout sessions, luncheons, women's groups, men's groups, bridal showers, office morale, non-profits and more.
FREE chocolate is always involved!
Please e-mail Julie if you have additional questions about prices and availability.
Don't see what you want? Send your ideas to have a custom presentation created for your event or budget.
Select one topic or combine a collection tailored specially for your event.