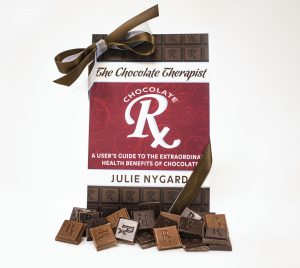 Founder Julie Nygard refers to The Chocolate Therapist as the intersection of her two loves of life: chocolate and nutrition.
Although she spent more than 18 years in the sporting goods industry, Julie studied nutrition her entire life. An athlete in her youth, she learned how to eat for performance and became intrigued by the way foods affect the body. She later studied nutrition in college, and eventually went on to receive a Nutrition Educator's Certificate from Bauman Holistic Nutrition College in Boulder, Colorado.
Julie left the sporting goods industry to follow her dream of becoming an author just as the health benefits of chocolate news broke. A passionate chocolate lover, she knew immediately this was her perfect topic. Over the next 16 months, she amassed hundreds of scientific research papers on the health benefits of chocolate, studying intently while eating a little research every day. Combining her chocolate knowledge, sense of humor and nutrition expertise, she wrote The Chocolate Therapist, A User's Guide to the Extraordinary Health Benefits of Chocolate.
After the book was in print, her mission evolved into changing the chocolate-loving world as we know it. She began giving presentations at local health food stores about the health benefits of chocolate. As her popularity grew, she was frequently requested for television and radio interviews and was often featured in newspapers and magazines. Demand for her presentations increased, helping expand her message for chocolate and health to larger audiences. 
With presentations going strong as people embraced the health benefits of chocolate, Julie launched her own line of chocolate to support the concepts in her book. She hired a local chocolate shop to custom manufacture the chocolates, and later purchased the shop when the owners decided to retire.

From there, Julie created a collection of original-recipe chocolates with all-natural ingredients, embracing the clean-eating concepts she lives by the brand represents. The shop officially launched as "The Chocolate Therapist" in October of 2008. She later added an espresso bar with gourmet coffee, creating a unique and successful business. Most recently, the shop added a self-serve wine bar where guests can select their own wine as well as a collection of chocolates to pair with wines. In January of 2020, Julie gave a TEDx presentation on the health benefits of chocolate.