Weddings, Parties & Convention Favors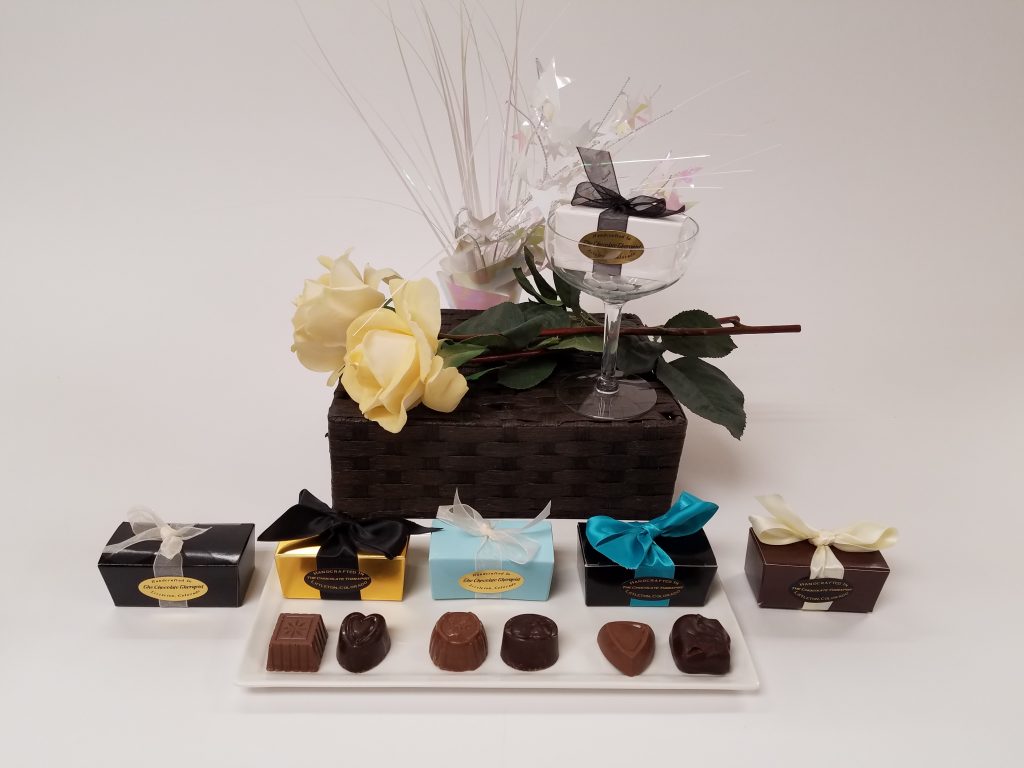 The perfect Colorado-made gifts for Conventions, Weddings, Guest Gift Bags and More! Custom match your theme from more than 20 box colors and ribbons, add your own private label, 2 and 4-piece boxes. For more info, use contact page at bottom.  Wedding & Party images and price brochure.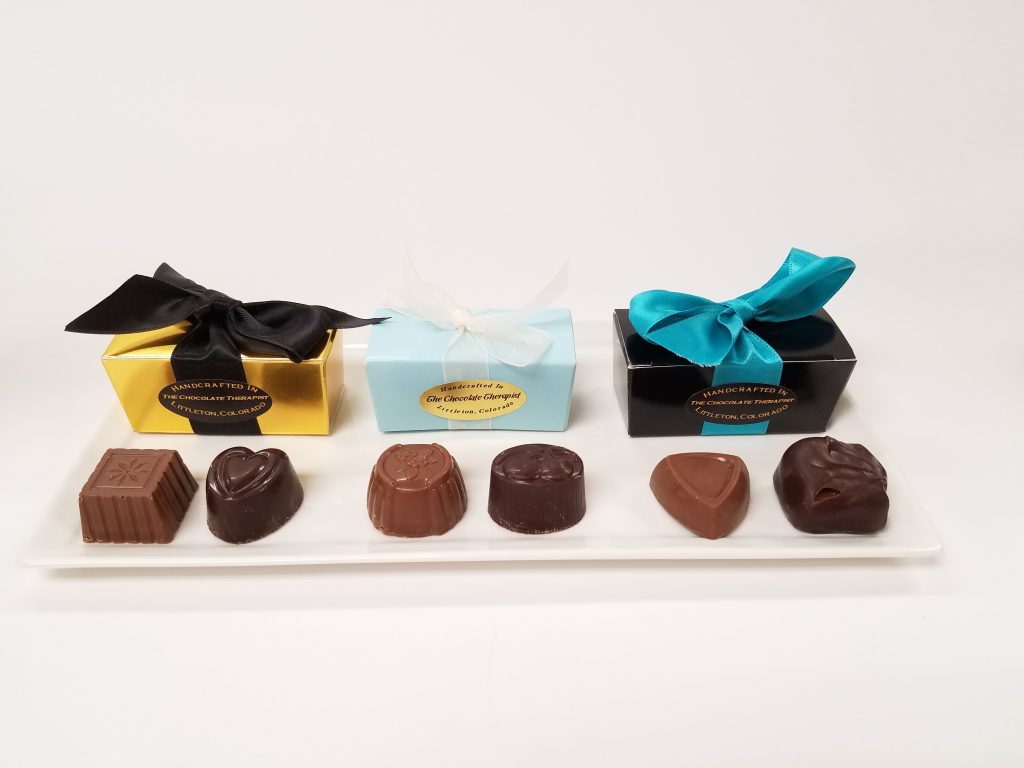 Hand select your favorite chocolate from the list below and create the perfect box.  Also available–mints, caramels, sea salt caramels and nut clusters.
 If you can imagine it in chocolate, we can create it!
Chocolate bars are available with custom wrappers for your personalized message.
Molded chocolates can also be created to perfectly match your theme. Bring your own mold or choose one of ours (allow 6 weeks).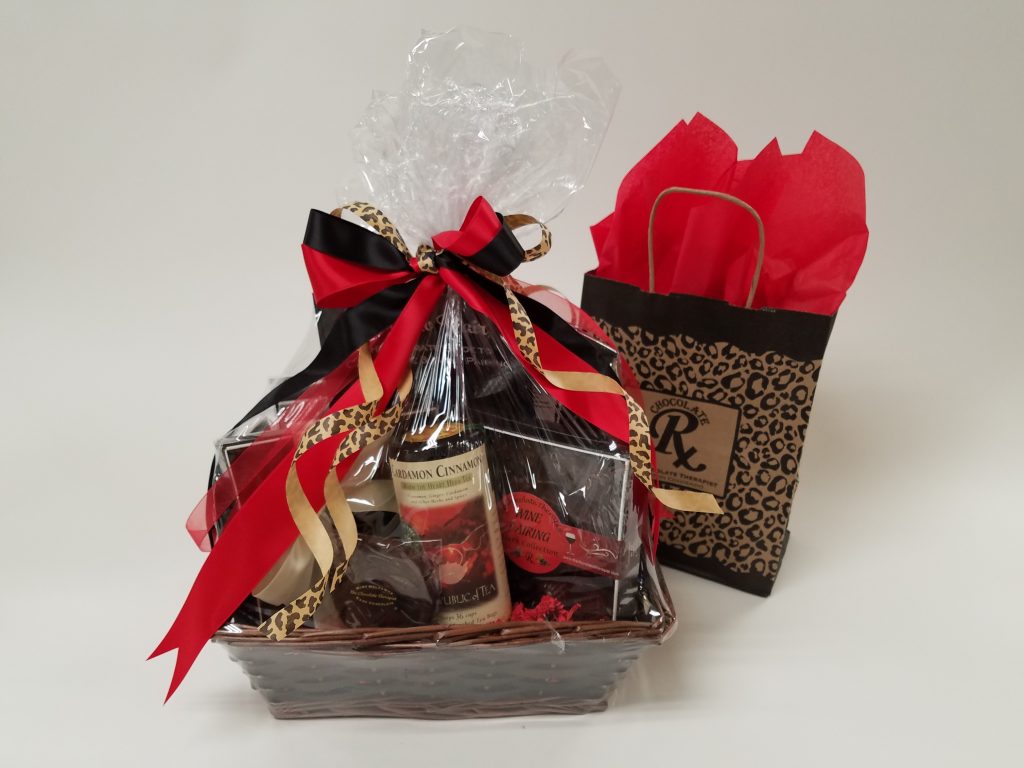 Beautiful baskets for corporations, bride gifts, holidays and all-occasion gifts.  Every budget available.
OUR CHOCOLATE MELTAWAY ASSORTMENT
Our chocolates are handcrafted with pure ingredients–there are no dyes or artificial flavors in anything we make.  Dark chocolates are also naturally soy-free and gluten-free. The outer shell is molded with dark or milk chocolate and then filled with chocolate softened with a touch of coconut oil and organic flavoring oils. Available in these unique flavors:
Dark: Chai, Lemon, Raspberry, Irish Cream Coconut, Very Black Cherry, Sangria, Dark Orange, Plum, Earl Grey and Peanut Butter
Milk: Hazelnut, Deep Orange, New England Maple, Amaretto, Key Lime, Mulling Spices,  Cappuccino and Apricot
Chocolate bars with customized wrappers for your guests or custom labels with your own message or logo.
Twelve different bars to choose from or create your own – just tell us exactly what you want in the bar.
The Purist ~ All-natural 72% dark chocolate. Smooth, rich, dark
Extreme Therapy ~ All-natural 72% dark chocolate sprinkled liberally with organic cacao nibs
Super Hero ~ All-natural 72% dark chocolate with whole almonds and tart dried cherries
Blue Suede 'Shews ~ All-natural 72% dark chocolate with roasted and salted cashews and natural dried blueberries
Down by the Sea Salt ~ Our newest AND most popular bar! All-natural 55% dark chocolate sprinkled with Maldon sea salt and sliced almonds….the ultimate treat
Spice of Life ~ All-natural 55% dark chocolate, cinnamon, ginger, pepitas
Center of the Universe ~ All-natural 55% dark chocolate
Double Shot ~ All-natural 55% dark chocolate with locally roasted and freshly ground espresso beans
Berried in Chocolate ~ All-natural 55% dark chocolate with blueberries, cranberries and cherries
Going to the Dark Side ~ All-natural milk chocolate layered over 55% dark—the best of both worlds for those working toward the healthier dark side
Traditional Decadence ~ All-natural, smooth milk chocolate
Cowz Gone Nuts ~ All-natural milk chocolate with sliced almonds
julie@thechocolatetherapist.com  or  303-795-7913
Contact Us / Send Us an Email